---
SITE NEWS
ECUADOR's Civilian Space Agency-
EXA
Learn about Ecuador's first steps into Space, from sub-orbital flights to the ambitious project of having its own Astronaut Corps, and much more. And now AXM is proud to release the NEE-01 "PEGASO" papermodel for kids!!
---
"MOONRAKER" (9/27/09)
AXM site has designed the MOONRAKER 6 papermodel from James Bond 007 movie (1979). Click here to download model. (Revision 1)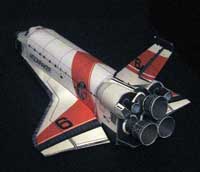 ---
Shuttle Derived Heavy Launch Vehicle model (7/9/09)
AXM site has designed this papermodel based on a proposal to replace the Space Shuttle. Model was donated to Jon Leslie's "Lower Hudson Valley Challenger Center" site. Click here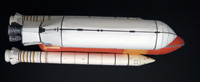 ---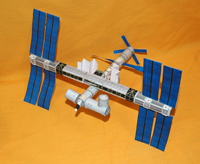 ISS cardmodel for kids (3/3/09)
AXM site is proud to announce the release of the first children's ISS model in the world, on a joint venture with CSIRO's Double Helix Science Club. Read the Media Release here
---
A special Thanks to these talented cardmodelists for their contribution with their work:
*Gerardo Escobedo (PaperJerry.blogspot.com)
Check the El Paso "The GLUE" Newsletter that shows my models built by Gerardo Escobedo (look for Dec 06 and Mar 07 issues). Special thanks to Gerardo for arranging the display of my Shuttle models that he built at the "Space Murals" Museum in Las Cruces, New Mexico (click here for photo). Beta tester for several models.
*Aaron OBrien (Spaceboy's Models) SSM2007 member. Beta tester for several models.
*Richard De Vries (www.smarpache.com) Designer of the shuttle wing supports and the SCA.
*John Jogerst Designer of the "Historical Space Stations" models and several models at the Papermodelers.com forum and ecardmodels.com
* Marcel Kukuricáš (Spacepapermodels.blogspot.com) Beta tester for several models.
* David Brown Designer of Ariane V and concept vehicles
---
Suggested Resolution 800 x 600 or better
You will need the Adobe Acrobat Reader (latest version) to view the files in PDF format and your printer.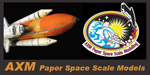 admin@axmpaperspacescalemodels.com
Current year (map below):
Online since Oct 2006
This site is not sponsored by NASA or other parties
© 2013 All Rights Reserved